The 2012 seed crop is ready.
Premium Seed List is now available



We are very pleased to offer you our most recent selection of the World's top performing and favorite pumpkin varieties. Pumpkin fever has hit an all-time high with many more home owners decorating for the fall season, and the dramatic increase in World Record weights with our "Dill's Atlantic Giant" variety. The Dill Family would like to extend a "TON" of congratulations to Ron Wallace of Rhode Island for growing the first 2000 lb pumpkin at 2009 lbs and for also growing the second heaviest pumpkin in the World at 1873.5 lbs. Great job Ron, you know how proud we are of you! "Rock Solid" congrats also go out to Steve Geddes of New Hampshire for growing the third heaviest pumpkin in the World at 1843.5 lbs. Very special congrats go out to our fellow Nova Scotian growers, Carl Graham of Donkin and Gerard Ansems of Steam Mill for having a superb growing season. Carl grew the World's 4th heaviest pumpkin at 1811.5 lbs and Gerard grew two monsters at 1727 lbs and 1616 lbs. Great job gentlemen! The field pumpkin record was also broken this year by Quinn Werner of Pennsylvania at 209 lbs. Congratulations Quinn on growing the first 200 lb field pumpkin! Finally, to all of you who grew a personal best, Provincial or State Record or new record for your country, congratulations and best wishes from the Dill Family!
As we head into 2013, there is great anticipation for bigger and better pumpkins and our mission will be to continue to provide top quality seed. We are very proud of our "Dill's Atlantic Giant" heritage spanning the last 33 years and the enjoyment it has sown. At this time, we would like to thank all of you who have supported us in the past and welcome new customers who aspire to grow big "ATLANTIC GIANT" PUMPKINS! Yours in Pumpkins, Danny Dill
President, Howard Dill Enterprises
Son of originator,
Howard Dill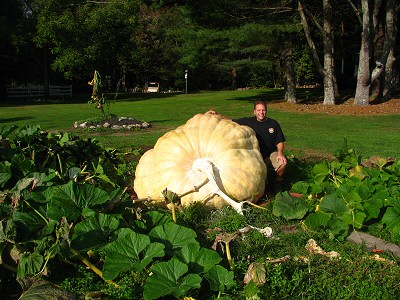 Ron Wallace is seen here with his
2009 lb World Record Pumpkin moments
before taking it to the Weigh-off in Topsfield, MA
Please see our premium seed links under
'Heavyweights' and 'Show King Squash'
for ordering information. Very limited quantities, order early.