Welcome to THE DILL FARM
Wholesale Pumpkins
At this time we do not offer our pumpkins for wholesale.

U-Pick Pumpkins
At this time, we do not have fields where folks can go and pick their own pumpkins.
We pick them and display around the farm for those wishing to purchase a pumpkin.

The Dill Homestead, built in 1878
Home of the late Howard Dill, developer of the "Dill's Atlantic Giant",
World's Largest Pumpkin Variety
Hours/Admission
What to See/What to Expect
Products
Bus Tours
Windsor Pumpkin Attractions
Long Pond - Cradle of Hockey
Wedding Photos
Directions

HOURS

Summer Hours (June - August), Monday - Friday and most weekends (9-5)

Fall Hours (September and October) Open Daily 9:00 am - 6:00 pm (We will be open on Labor Day, Thanksgiving and Halloween)

Winter/Spring Hours (November - May) Monday - Friday (office) 9:00 am - 5:00 pm.

We will be closed on major holidays (Christmas, New Year's, Good Friday)

ADMISSION PRICES

No admission charges, donations welcome
Dogs are welcome, however, they must be on a leash and cleaned up after.



WHAT TO SEE / WHAT TO EXPECT


We grow Giant Pumpkins, lots of them along with many different varieties of Halloween pumpkins, summer and winter squash and gourds. Best time to see the giant pumpkins is in late August through October. Lots of photo opportunities ...bring your camera!


Atlantic Giant Pumpkins waiting to be turned into "Pumpkin Boats" for the annual Pumpkin Regatta
Our 500 lb. "Turkey Pumpkin"



top


PRODUCTS

Pumpkins (all shapes and sizes) We grow approx. 40 different types!
Squash (Summer & Winter) We grow roughly 30-40 different varieties!
Gourds, Apples, Corn Stalks
Pumpkin Seeds, T-shirts, Hats, Candles, Soap, Handmade Ceramics, Stained Glass, Homemade Knitted Goods, Preserves, plus many other items.




During the months of May and June, we offer giant pumpkin transplants. For those interested in a transplant(s), please contact Diana at 902-798-2728 or email howarddill@yahoo.ca

BUS TOURS

Bus tours
$2.00/person
Reservations a must! Please call 902-798-2728 or email howarddill@yahoo.ca

Please note that we are quite busy on the weekends in September and October and parking can be tight. Please consider when booking. Thank you.

We have one bathroom on site.

top


WINDSOR PUMPKIN ATTRACTIONS

Windsor - West Hants Pumpkin Weigh-off
Weigh-off - September 30 , 2017 (The Dill Farm 10:00 am)



Windsor - West Hants Pumpkin Regatta
October 15 , 2017 (Windsor Waterfront 2:00 pm)
Parade of Pumpkin Paddlers, 12:00 pm (through downtown Windsor)
Race begins approx. 2:15 pm



top



LONG POND - Cradle of Hockey c.1800

Long Pond is located in our back field and is the earliest reference to hockey played in Canada, circa 1800.
We also have some great old time hockey memorabilia on display!
Host of CBC's "Hockey Day in Canada" 2002


The Stanley Cup made a special visit to Long Pond on March 30, 2010.
A big thank you to Phillip Pritchard "The Keeper of the Cup"!
Approx. a 10 minute walk from our yard or driving is permitted.
Trivia trail to and from Pond
top



WEDDING PHOTO

Yes, if you love pumpkins and would like to have your wedding photos done here at the farm, please call 902-798-2728 or email howarddill@yahoo.ca

Site fee $50.00

DECORATING FOR A WEDDING?

We grow white pumpkins as well as a miniature gourd called Baby Boo which is white. A neat table centerpiece idea is to take a small gourd such as a Baby Boo or Jack be Little, hollow out the center and place a tea lite inside.

DIRECTIONS

We are located at 400 College Road, Windsor, Nova Scotia

From Halifax, Hwy 101, take exit 5 for Windsor, turn left at stop sign, stay straight, turn right at yield after railroad tracks, follow signs.

From the Valley, Hwy 101, take exit 6, 5A or 5 for Windsor

From the South Shore, Rt. 14 (Windsor Road), turn left at stop sign, College Rd. is next road on left.

From Truro, Hwy 102, then on to Hwy 101, take exit 5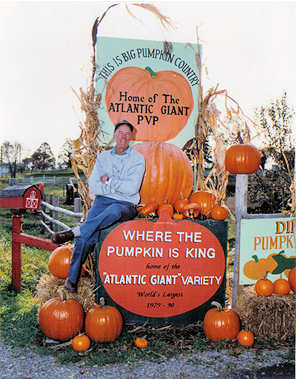 top
Howard Dill Enterprises
RR#1 400 College Road
Windsor, Nova Scotia
Canada BON 2T0
"Mail Order Only"
Tel: (902) 798-2728 Fax: (902) 798-0842
8am - 4pm Eastern Time

HomePage | Order Form
Copyright © 2017 Howard Dill Enterprises
Designed by Backyardgardener.com